Since this is the first season I've really got to think about dressing anyone else, I jumped at the opportunity with both feet to dress Pierce for a pumpkin patch photoshoot. And since I'm me, dressing Pierce for a photoshoot means LOTS of different outfit options!! 
I had an idea of what kind of pictures I wanted. I wanted some calming autumn shots, some energetic smiling shots and of course a few family shots I can share. Since I take a lot of pride in getting 'what to wear where' right it was important that I pick the right outfits for Pierce. I wrote a separate blog post where you can find some of my favorite shots from the pumpkin patch.
Because I thought so much about how to find the perfect outfits for the occasion I figured I'd share some of my Pumpkin Patch Photoshoot outfit ideas with you!!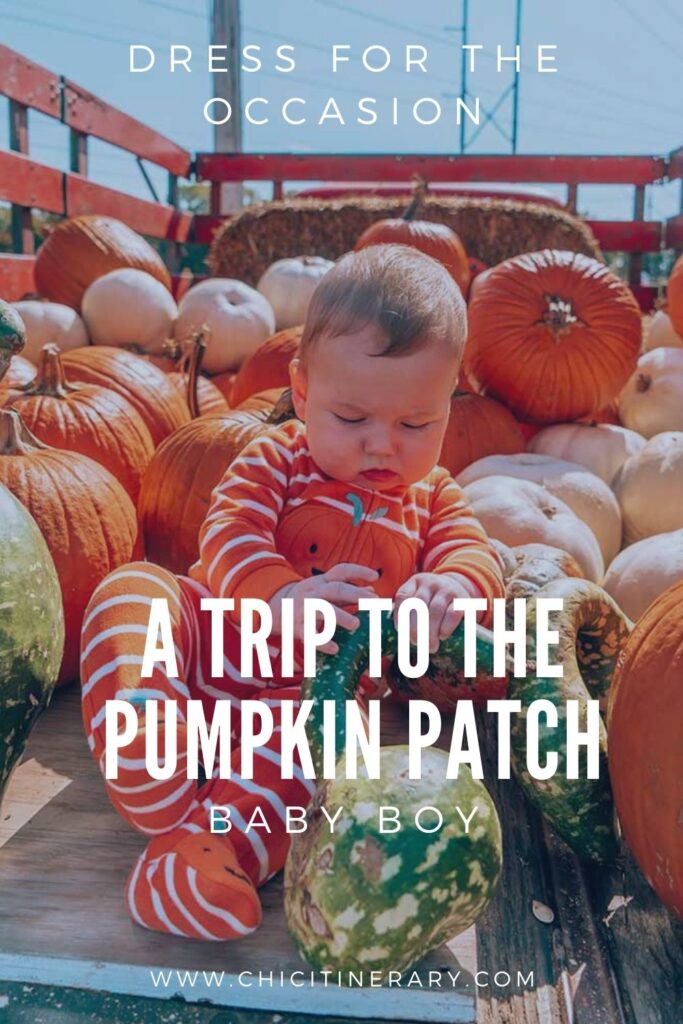 Pumpkin Patch Chic: Baby Boy Edition
I'm going to break down exactly how I styled Pierce for his pumpkin photo shoot but first I want to get a couple pieces of advice out of the way.
First piece of advice: timing matters. We took Pierce for his pumpkin patch photoshoot in the mid-morning between his morning nap and lunch when he's usually at his smiliest. It's a great idea to go when your baby is well rested and not grumpy.
Second piece of advice: bring lots of outfits. If you're a parent you already know this but babies always find a way to make a mess at the most inconvenient time. Pierce made a mess of one of his outfits before we even got one photo! Bringing some interchangeable pieces and outfit options is key to a successful photoshoot.
Now that that is out of the way, let's dive into Pumpkin Patch Styling: Baby Boy Edition!!
Know Your Autumn Color Palettes
Warm Autumn
Browns, yellows and oranges are a great color palette for this time of year. Whether in the pumpkin patch or checking out the foliage these colors work. I love them from the first cold days in October all the way through Thanksgiving. These colors usually look great in photos in the early morning or late afternoon. I always love these colors since they really give off a calming fall vibe. Some of my absolute favorite fall outfits for Pierce are his rust colored onesies and overalls.
Pumpkin Patch
If you go to any pumpkin patch on the weekend you'll see people dressed in bright orange. Bright oranges work well in the pumpkin patch with duller shades of orange and dull yellows. This palette is perfect if you're trying to bring more energy to your pumpkin patch shoot. When Pierce smiles in these colors you can just feel his energy oozing through the camera!!
Contrasting Blues
Most people don't think of blue as a great pumpkin patch color but they're wrong!! Blues provide a great contrast to the orange of the pumpkins. In my experience a dull blue outfit can really make the natural autumn colors pop. And it looks especially good against a dark blue October sky. A great thing about these outfits is they aren't just for Halloween so your baby can get a lot more wear out of them than a bright orange outfit.
Embrace your Kitsch
Before Pierce was born I was like any typical 20-something person. I used to cringe when I saw families pumpkin picking with a baby dressed like a pumpkin. Now I understand it so much more. Event though I know it's supper corny, I HAVE to have some pictures of Pierce dressed like a pumpkin in the pumpkin patch. Don't be afraid to take some kitsch photos with your baby too!! There are TONS of super cute Halloween and Pumpkin Patch outfits for babies. And fortunately most aren't too expensive!!
Here are a few of my favorite 'embrace the kitsch' outfits.
I always love seeing how other people style their kids so f you want to share some of your favorite pumpkin patch shots from this year send me them on instagram!!