I always love when the seasons change because it means I dip into my fall closet!! There are so many great things about dressing for fall. I love the autumn colors. The comfy and cozy cuts. And as the temperature drops getting to layer really brings fun texture to an outfit.
One great thing about my fall closet is so many of my favorite wardrobe essentials never go out of style!! Boots, knits and cropped jackets are all in style every year. This year I've added a bunch of fall jumpsuits that I'm in love with to the rotation too!!
And of course, if you're looking for ways to dress your little one for fall, make sure to check out how I dressed Pierce for the pumpkin patch!
I'm thrilled to share some of my favorite looks with you. Just to be transparent, some of these links are part of affiliate programs so if you make a purchase I get a commission – it doesn't cost you anything since it's the platforms paying me for the referral!!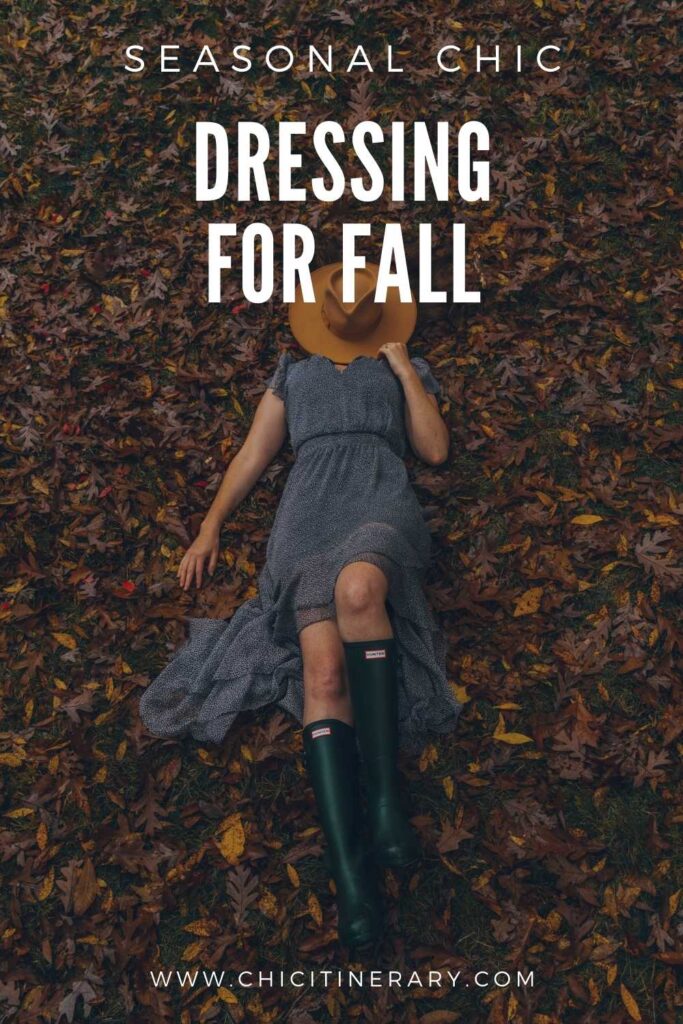 The Essentials
When I think of fall fashion a few things come to mind. I think of cozy knits, neutral tones, orange and rust colors, cozy textiles and of course Boots!! I could write a ton about how I'm dressing this fall (and I'm actually working on a separate Boots post), but I know you probably don't want to read that much from me so I'll boil it down to the essentials. Here are some of my favorite essentials for dressing perfectly for autumn!
Know your Fall Boots
I'm a big fan of fall boots. Living in NYC means I walk around a TON. Since I walk so much it's important that my shoes aren't just stylish, they have to be comfortable too. I find boots to be super comfy and a great way to look chic! For fall, depending on the outfit I wear Chelsea Boots, Hunter Rain Boots, Over the Knee Boots or Booties.
I actually wrote a separate post about fall boots so if you want to see way more of my favorite boot options check that out. But if you are just looking for some quick inspiration, here are some of my favorites.
Let's Get Cozy in Some Knits
One of the first things I think of (besides the changing foliage) when I think of fall is cozy knits. It's October so it's truly sweater weather and I LOVE it!!
Every fall I stock up on basic neutral sweaters that I'll wear all fall (and winter and spring too). To mix up my look, I always try to sprinkle in some statement knits that will stand out and show off my personality. My sprinkled in sweaters are generally bold colors but funky patterns can be an amazing change-up too.
One quick sweater tip. If you have a favorite summer dress, a great way to get more wear out of it is to add a chunky sweater over it!!
Cropped Jackets
Before I moved to NYC I was never a winter girl. I spent the first 25 years of my life in Texas and Dubai so I never really had the need for a bunch of coats. Now from October to April I LIVE in jackets and coats!! For Fall I love cropped jackets that show off my waistline and let the jumpsuit or skirt I'm wearing underneath have a full effect. Cropped jackets are perfect over dresses too and let you extend your summer wardrobe.
Cropped jackets are also super versatile so they're a great thing to have in your wardrobe. Honestly, I think a coat is the best investment you can make in your closet since once the cold weather hits you'll wear one every day.
Expanding Your Fall Wardrobe
Jump(suit)ing into Fall
I'm usually a dress or skirt kind of girl but this year I'm super into jumpsuits. It may surprise you but I've found jumpsuits to be super versatile!! Wearing jumpsuits on their own make for a great edgy and fun look. Or I can pair a jumpsuit with a cropped denim jacket or chunky sweater and they look like super fun pants. Basically jumpsuits are fantastic because they can look like different kinds of outfits!!
Dresses…Perfect for Fall Too!
Since more than half my closet is full of dresses I'm always looking for creative ways to wear them. While most people move dresses out of their closet once the temperature drops, I love to find creative ways to wear them in autumn.
When I'm dressing for fall, I love layering a cropped jacket or sweater over a flowy dress since not only do I get more wear out of the dress, I also really expand my wardrobe options!! The bold colors of summer dresses are also perfect to help stand out when surrounded by fall foliage!!