The amazing thing about Banff is how many postcard-worthy places there are. In most of the park you can literally stand somewhere and take a stunning shot in any direction. Since there are so many options, I thought I'd share the places where you're sure to get a banger!!!
Thanks to Owen Belanger, Nick Balera,Joshua Phillips and Oliver Covrett who provided some of these amazing shots. If you're looking for a photographer in Banff I highly recommend reaching out to Oliver who is based right near by!!
1. Moraine Lake – Moraine Lake is the clear cut #1 spot in all of Banff. I went to this spot not once, not twice but THREE times because I couldn't get enough. The road actually turns into a cross country ski trail during the winter months and is usually only open to cars from mid-May to mid-October because of the danger of winter avalanches. Since this is one of my favorite places in the world definitely consider heading there during the summer months (or plan on snowshoeing which takes a few hours).
2 .Peyto Lake – Peyto Lake wasn't on my original itinerary but a couple of the locals recommended it. There is a stunning view point overlooking the dog-shaped lake that doesn't require a hike. You can literally drive right up, park and get the perfect shot…and then be sure to enjoy the view. It's a great spot for a picnic lunch if you don't want to carry your lunch on a hike!!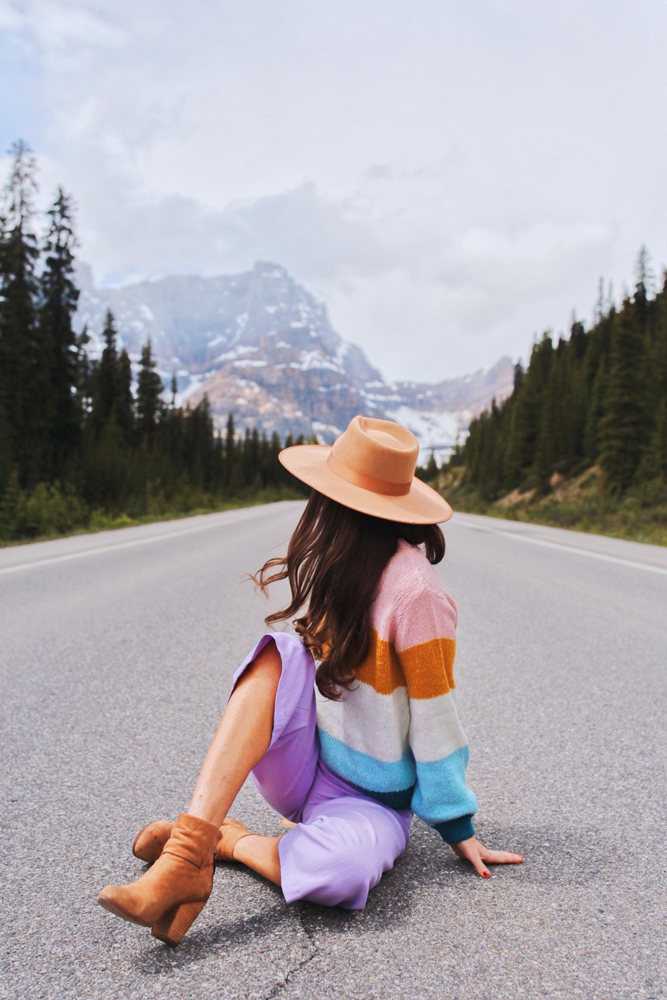 SHOP SWEATERS NOW
Banff Open Road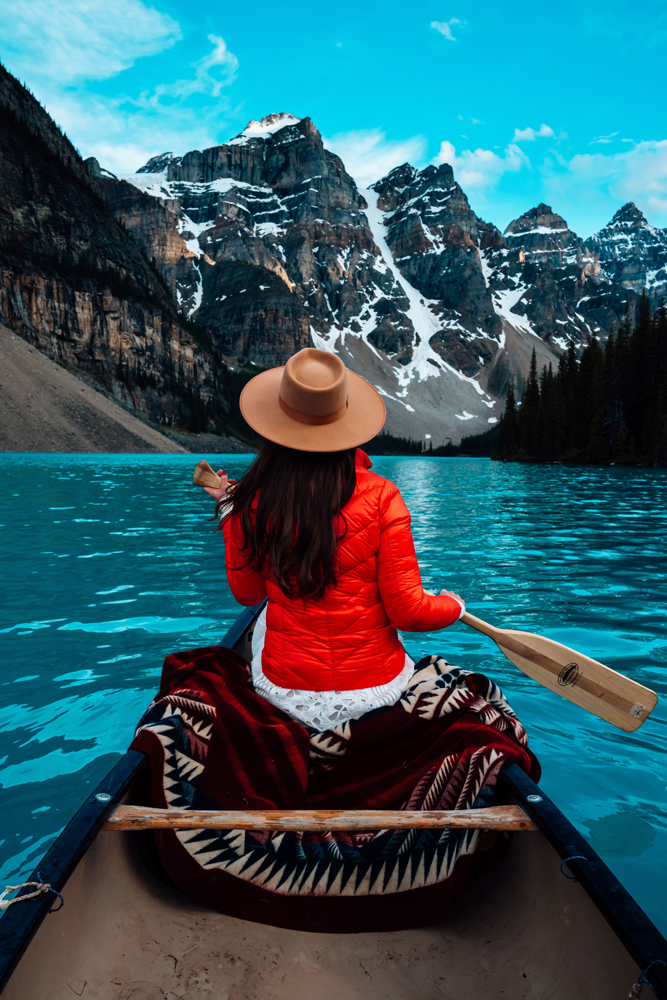 SHOP LIGHT COATS NOW
Canoe Moraine Lake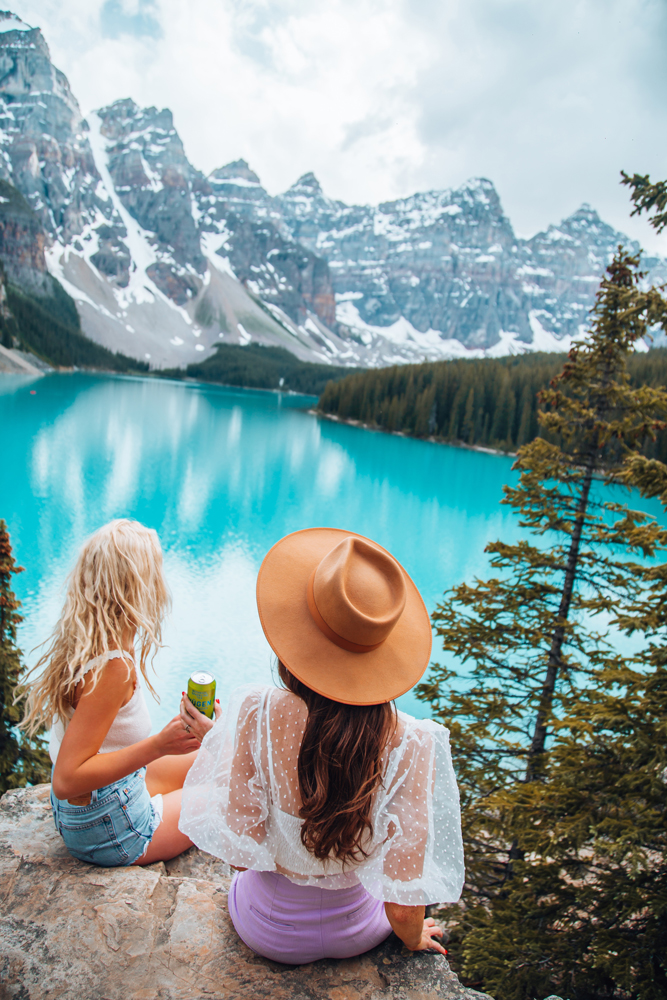 SHOP HATS NOW
Cato Kristi Morai
3. Emerald Lake – The roads to Emerald Lake are open year-round so if you make it to Banff during the winter months, Emerald Lake has to be super high on your list. Emerald Lake also has beautiful lodges that look like totally cozy places to stay. While I didn't stay there, if you're interested in some of the best places to stay, definitely check out [BLOG] for some of his favorite spots.
4. Lake Louise – Lake Louise is probably the most famous lake in Banff. If you get to the lake early make sure to rent a canoe since it makes for the perfect shot and nothing beats seeing the blue water up close. There is a lovely hiking trail around the lake with a cute tea house at the end where you can treat yourself to some treats after a hike.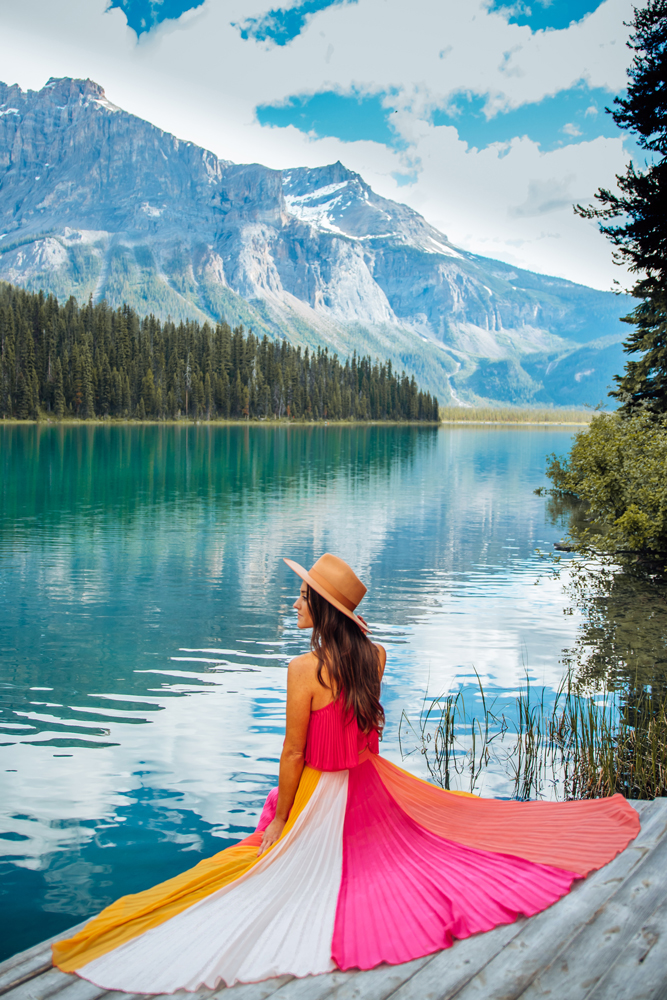 SHOP COLORFUL SKIRTS NOW
Emerald Lake Kristi by Tim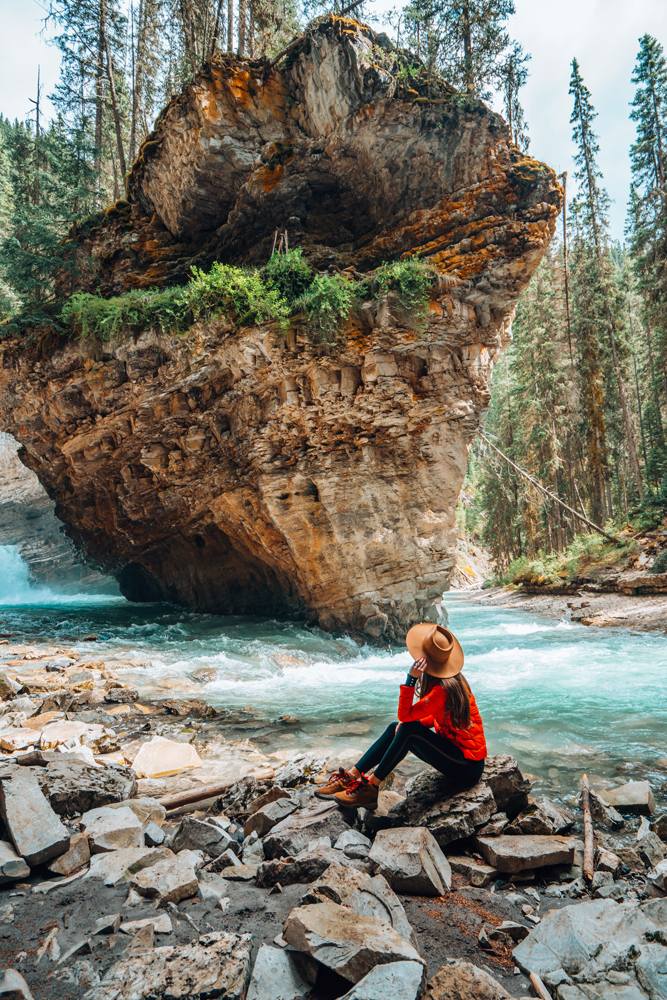 SHOP BOLD COATS NOW
Johnson Cove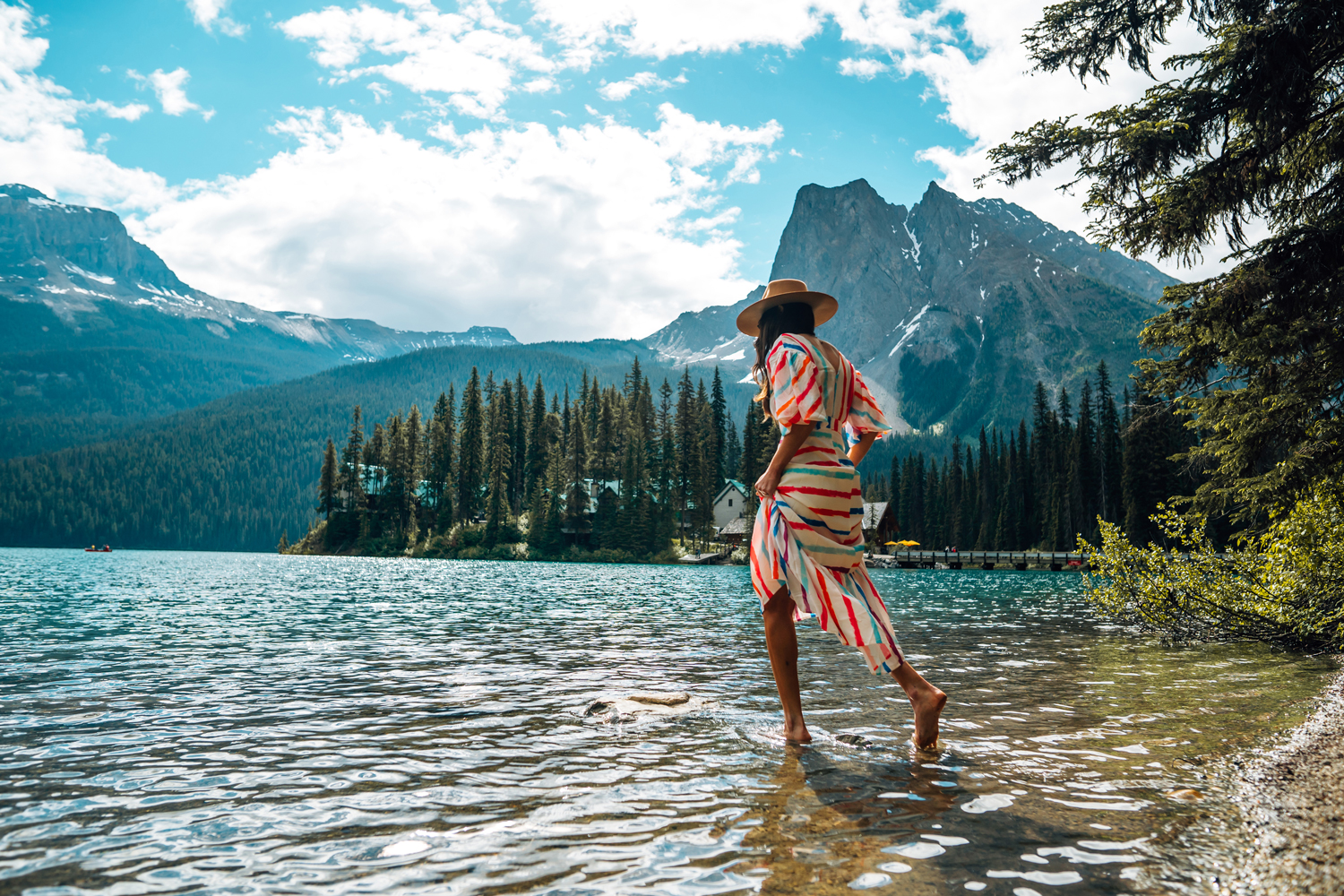 SHOP STRIPES NOW
Kristi Emerald Lake by Josh Cali
5. Two Jack Lake – Two Jack Lake is one of the closer lakes to Banff town and easily accessible by car or bike. At Two Jack Lake you can rent a Canoe or Kayak for an iconic water sport shot!!
6. Johnston Canyon Falls – There is a stunning trail through the woods with numerous places to take the perfect shot!! Travel Tip: Sometimes certain spots on the trail are closed off to preserve the environment so always make sure to read the signs and follow the instructions so that everyone can enjoy the beauty of Banff National Park.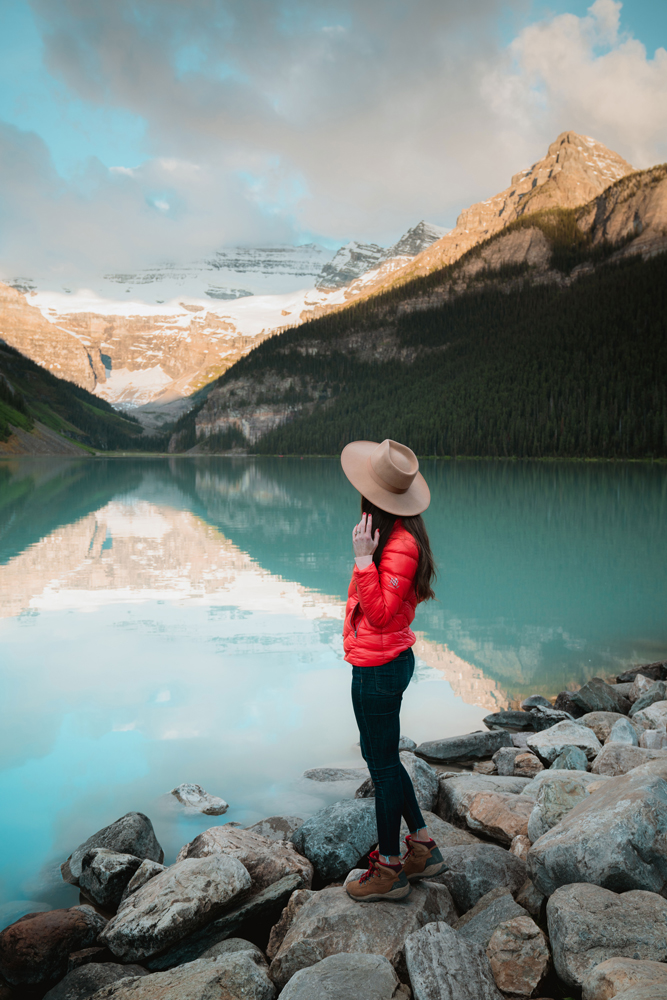 SHOP BOLD COATS NOW
Lake Louise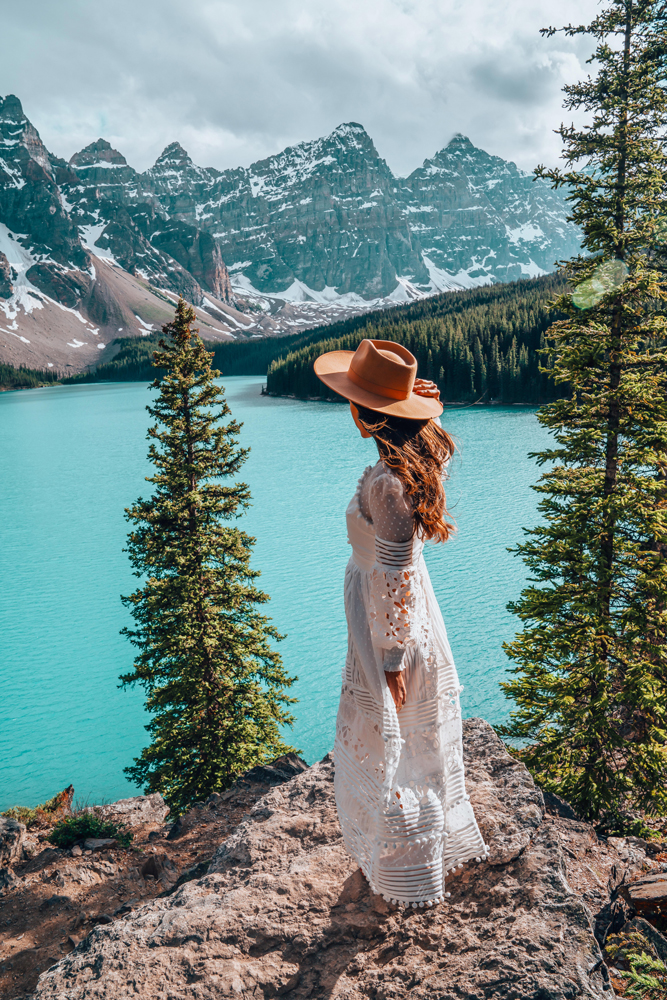 SHOP WHITE DRESSES NOW
Moraine Lake White Dress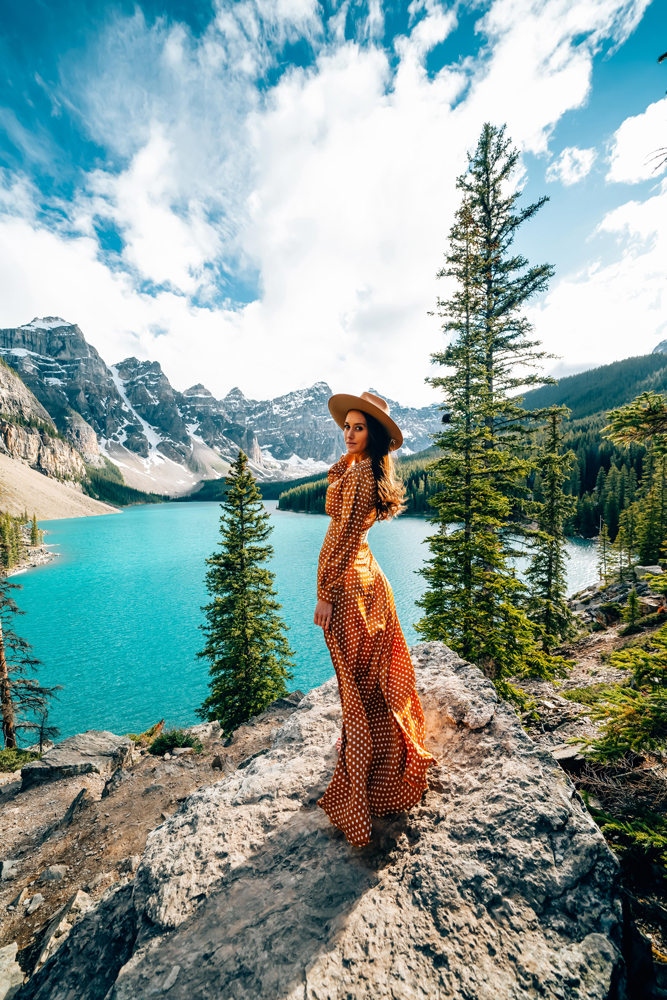 SHOP REVOLVE NOW
Moraine Lake View
7. The Open Road – This may sound crazy, but I sometimes love taking pictures in the middle of the highway!! I took some shots on Icefields Parkway which was on our way to Peyto Lake but there are many different options. I don't think you will find a more beautiful road to drive down than the roads in Banff.
8. The Fairmont Chateau Lake Louise – The Fairmont Lake Louise is the most picturesque hotel perched right at the edge of Lake Louise. It's stunning as a backdrop for photos and if you really want to treat yourself it's an incredible place to stay.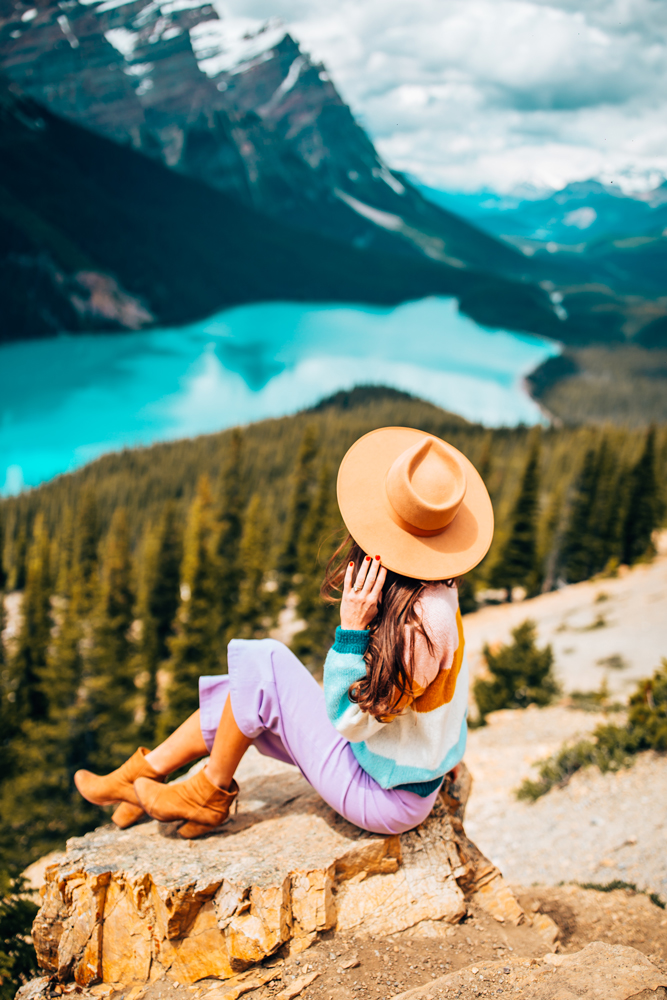 SHOP COLORFUL PANTS NOW
Peyto Lake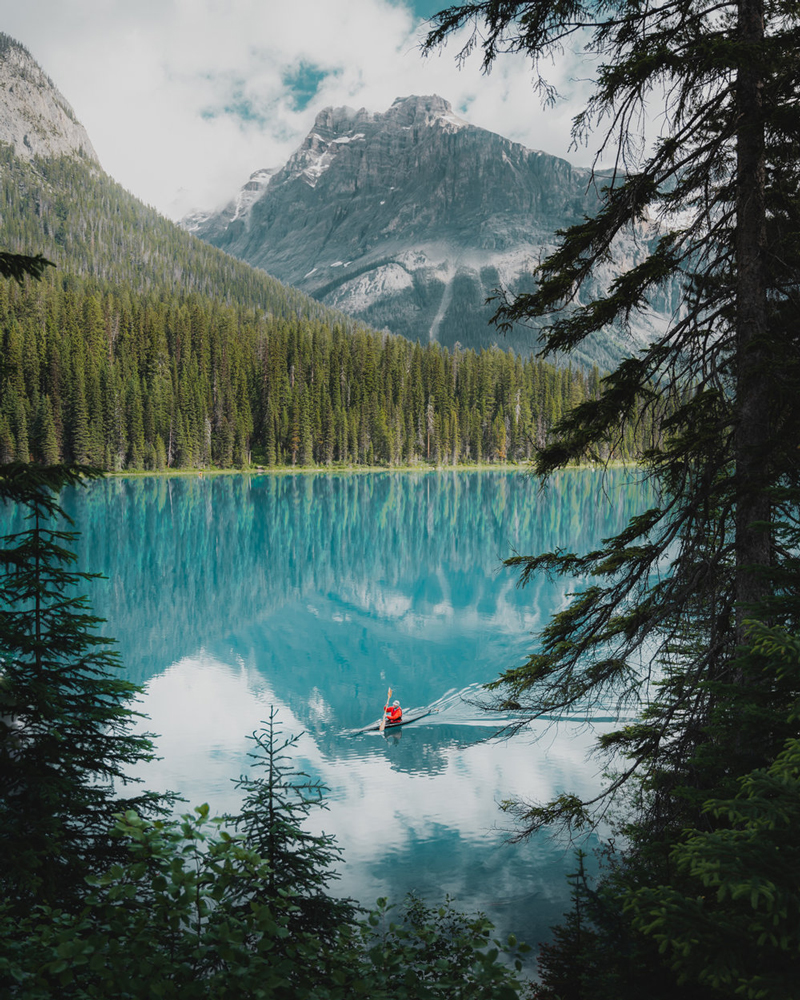 Emerald Lake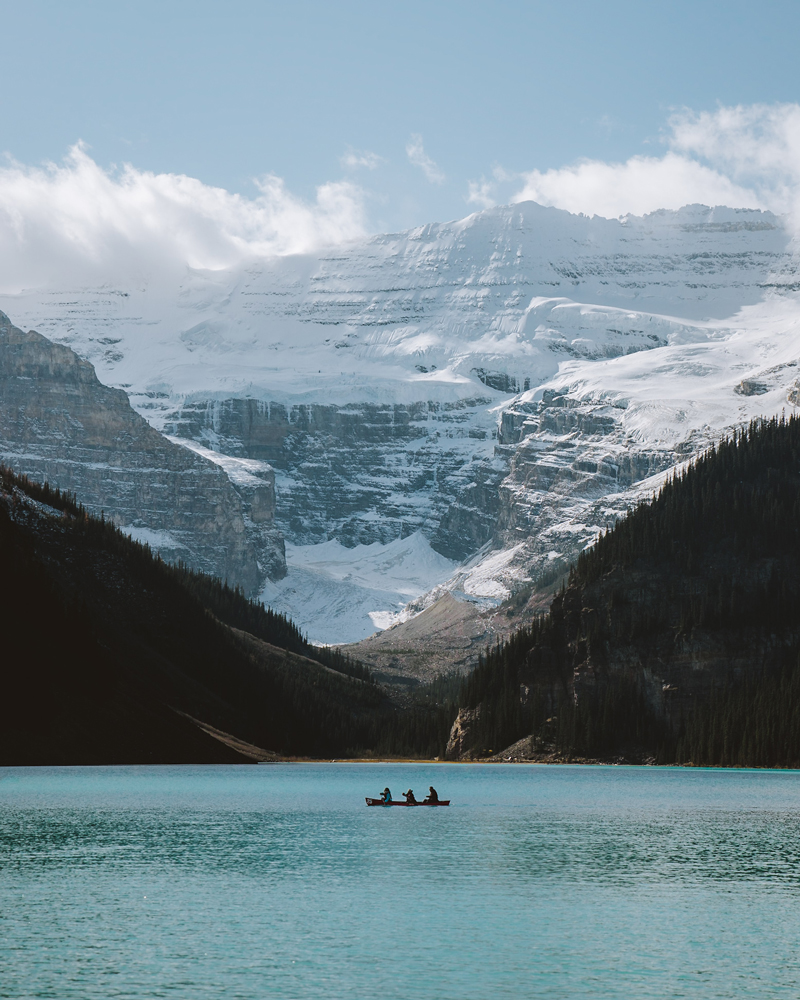 Lake Louise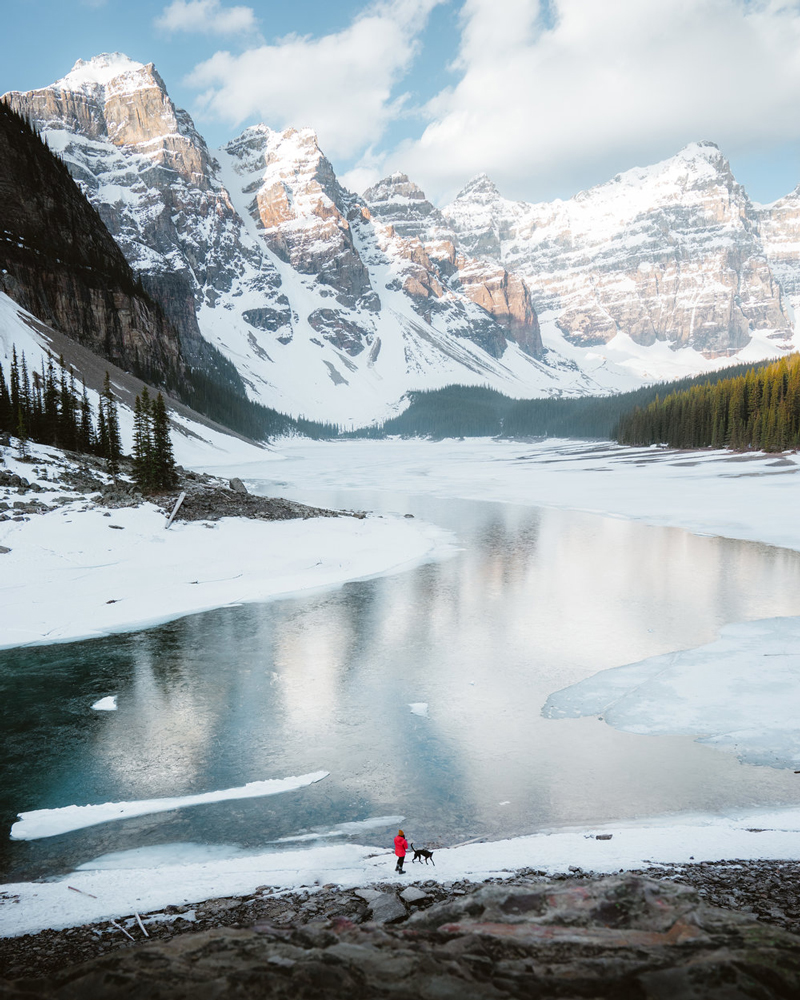 Moraine Lake Winter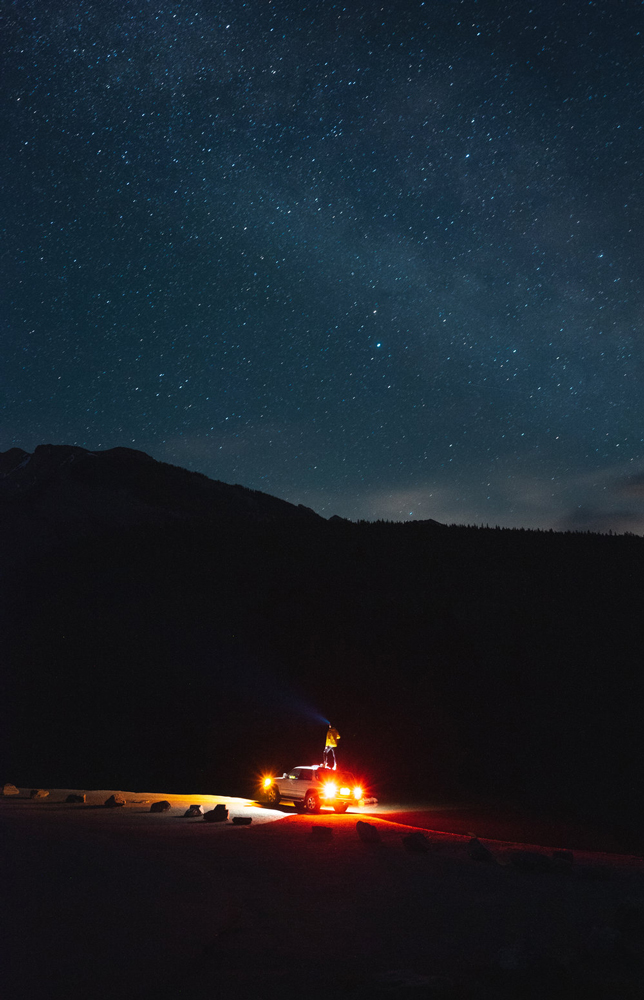 Night Shot Banff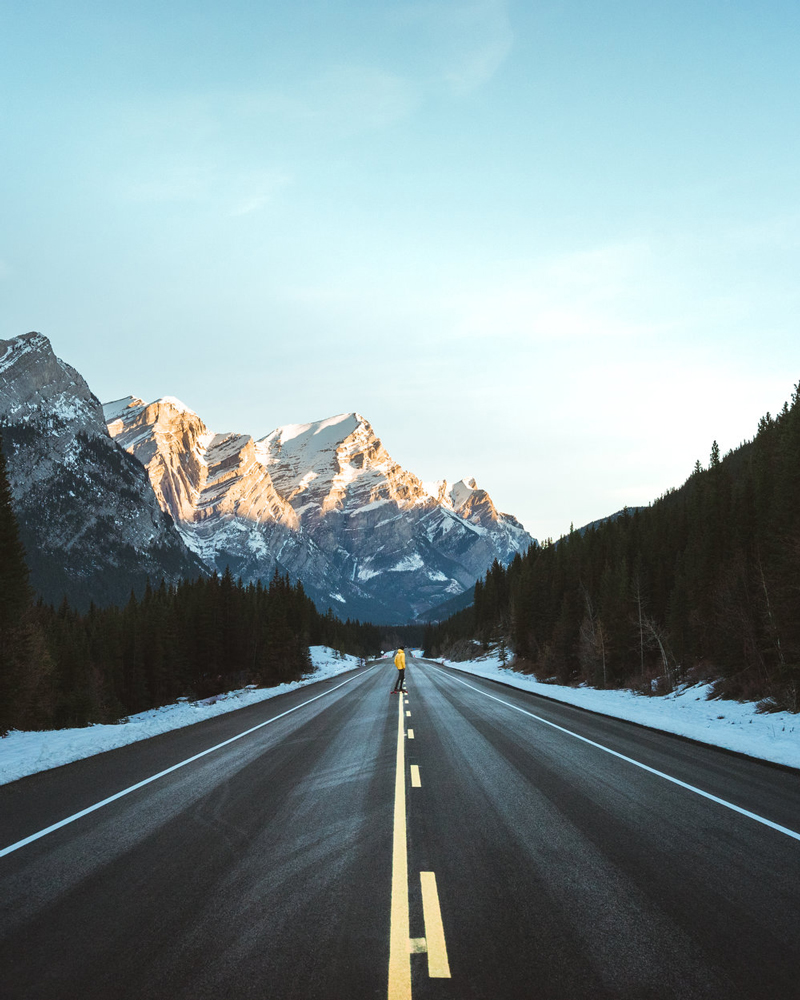 Open Road Banff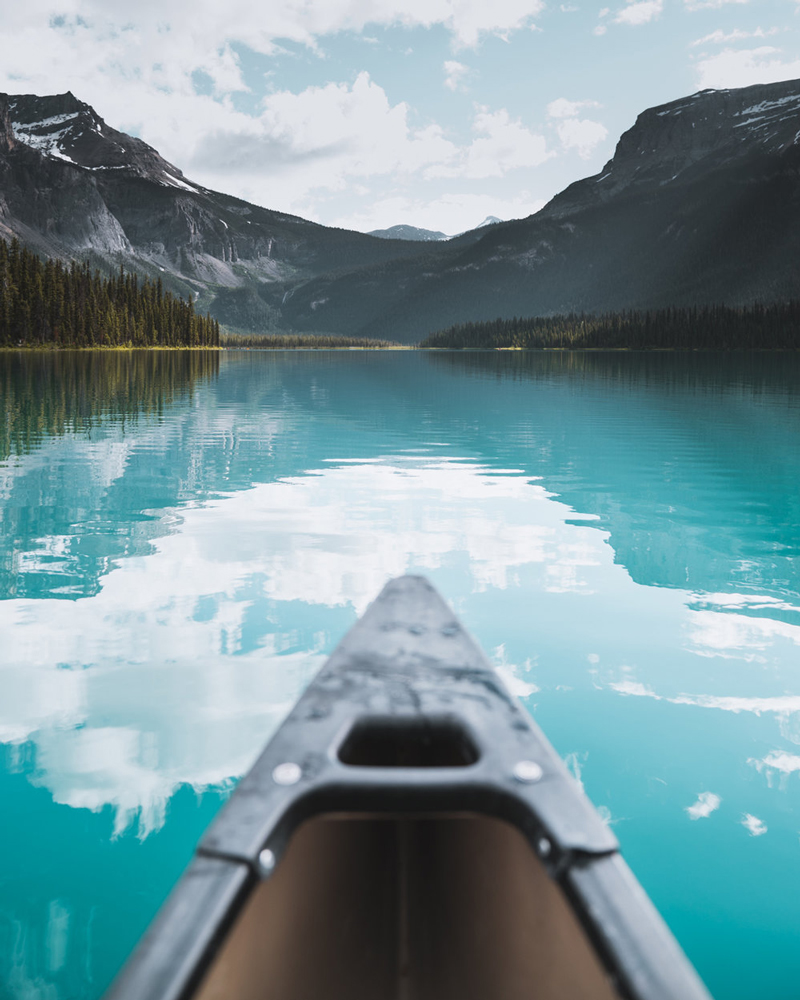 Row Boat Two Jack Lake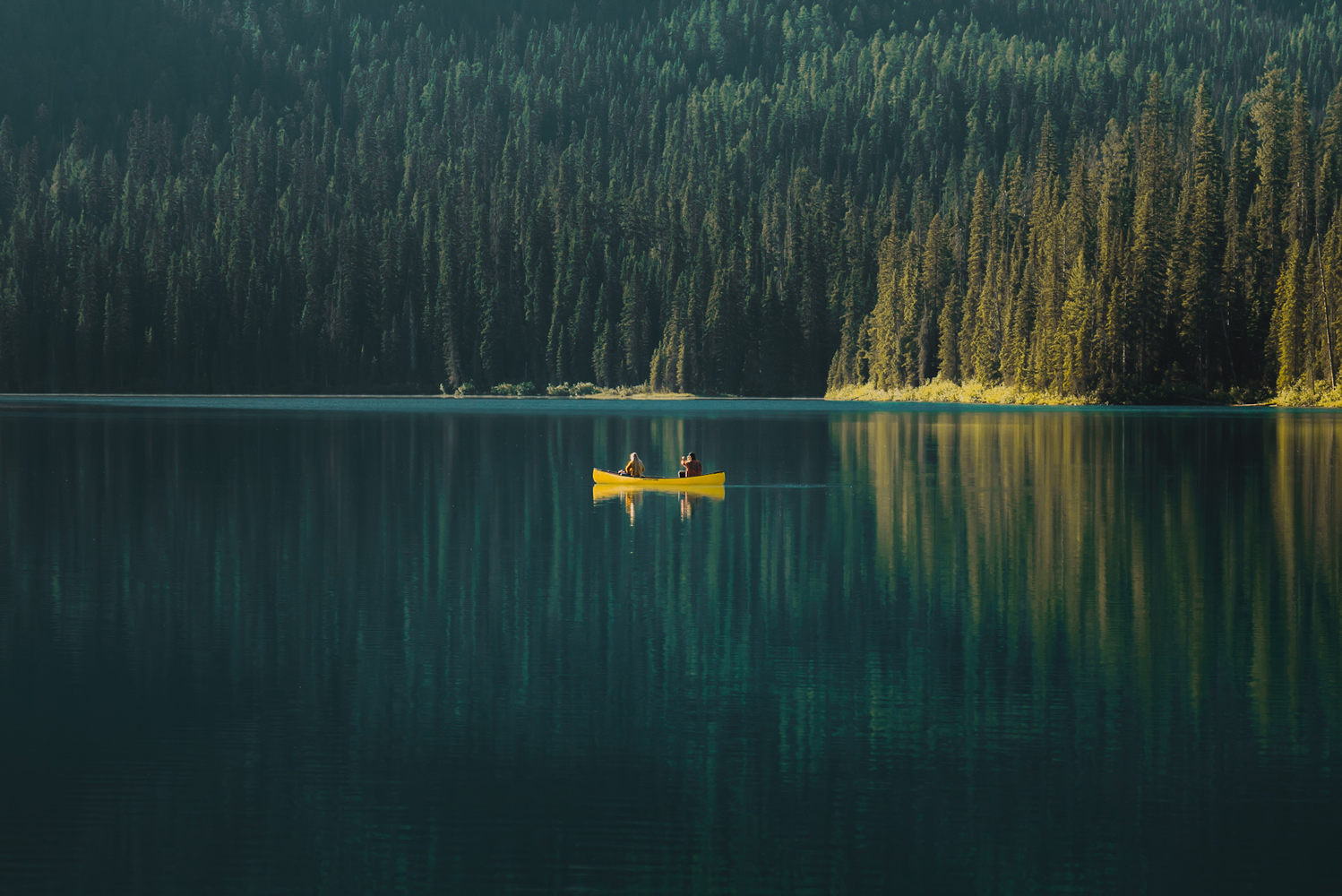 Two Jack Lake